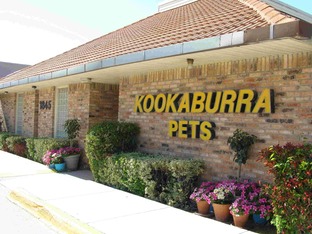 We have over 30 years experience in the Dallas - Fort Worth North Texas area keeping pet birds happy and healthy, physically and emotionally.   Whether you get a baby bird from us or adopt an adult bird, we have the knowledge and experience to help you with your feathered friend's needs.
My name is Michelle Beckley and I have grown up in the bird business.  My mother started this store in 1979.  I purchased the shop from her in 2003.  We are constantly evolving within the pet bird industry to service our clients to the fullest.
Our inventory is always changing.  New foods, toys, cages, birds, treats and everything bird related can be found in our shop.  
I have many exciting new ideas for the 10 year anniversary of me owning Kookaburra Bird Shop.  First things first, I am updating our website.  Please be sure and check back regularly.  To make this easy you can sign up many ways, E-mail list, Facebook, & Twitter.  I will be posting to those venues as all the updates happen.
We are the bird shop for you!  We love to help people with all kinds of birds.